An early interview about the DOM Notation project from THE COMPUTER CHRONICLES (1987… interview begins at 5:15)
It was with a surprising amount of sadness that I heard  the news that IAC will likely  pull the plug on Green.com … for those of you who didn't get the chance to see it or hear about it, it was a site a group of us started for IAC aimed at pre-teens… providing them an unbelievably cool virtual world, a safe social network, a kid-oriented wikipedia-like research tool called the Gno and all wrapped around the theme of making kids more environmentally literate and motivated towards creating a better future for our planet.
I've been away from the company about 6 months, there was still a crew there trying everything they could to make it happen.
There were some really, really talented people who worked on Green.com and I'm grateful to them for the chance to create what we did.   (in no particular order)… Ed, Ray, Kirk, JP, Lee, Kristin, Jim, Kevin,  Rita, Arthur, Greg, Graeme, Nick, Jen, Rachel, Allison, Christina, Connie, Margaret, Chris… and many others.  I also am grateful to Kiele for her dedication and terrific contributions both when I was running the shop and since she took over the reins.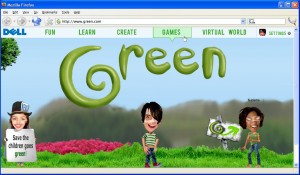 I'm not sure what will happen with the team or the property, but it is my hope to be able to work with everyone again in the future… it isn't sad because the business didn't make it, it is sad because there was such a wonderful family of people working on creating an interactive work of art.  And, the Art we created will live on.